Welcome to Bubbly Beth's Birthday Bash... June 8, 2007 - June 17, 2007
If you have any suggestions or comments, please E-mail Me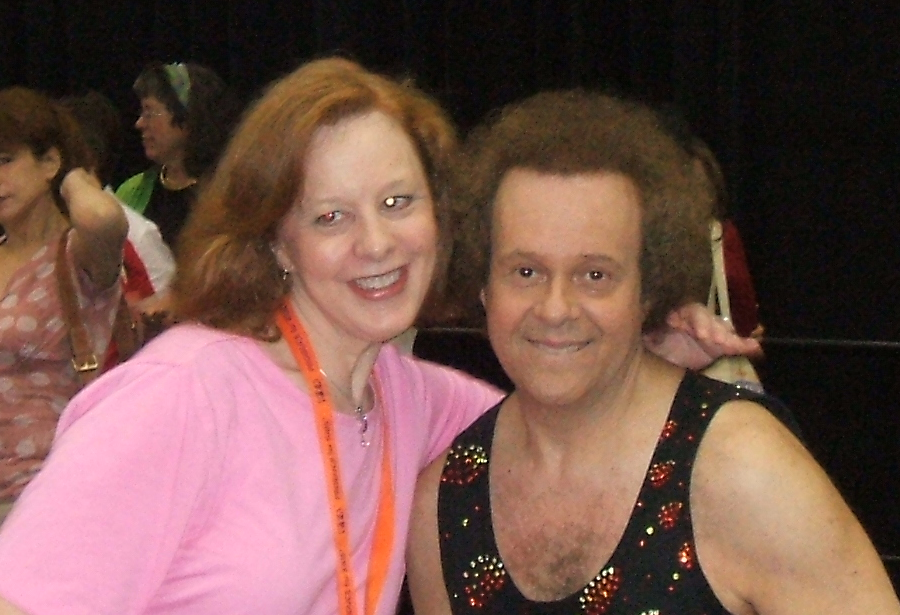 Beth and Richard in Baltimore, 5/12/07

---

Time until Beth's Arrival in Los Angeles

---

Before Beth leaves for Los Angeles, she plans to do the following:
1. Shop: Capris, Dock Shoes, Sports Bras, & TSB Approved Luggage Locks - DONE!
2. Get Nails Done: Manicure, Pedicure, Facial, & Eyebrow Wax - DONE!
3. Get B12 Shot - DONE!
4. PACK! Print Boarding Pass! - DONE!
5. Don't miss her plane!- DONE!
Our planned itinerary was as follows:
Beth's First Day in Los Angeles
Saturday, June 9, 2007
Beth and I will attend Richard Simmons! amazing "Project Me" and "Sweat" classes at Slimmons, his Exercise Studio in Beverly Hills. We will go home and clean up, then drive through Topanga Canyon, past the Malibu Feed Bin, and up the California Incline to meet Dana at the Santa Monica Pier. There, we will enjoy ourselves with beach activities and dinner at Bubba Gumps
Beth's Second Day in Los Angeles
Sunday, June 10, 2007
We will start with an early rise, then off to the Hollywood Farmers Market. Sometime in the morning, we will hook up with Eric. We will all then go to Slimmons to attend a Live broadcast of Richard Simmons Lighten Up on Sirius Stars 102. After that, we will come home, make a picnic dinner, and head to Warner Center Concerts in the Park to hear the balance of the Playboy Jazz Concert there.
Beth's Third Day in Los Angeles
Monday, June 11, 2007
Our field trips are not confirmed yet. However, we can mix-and-match from the San Fernando Mission, the Ronald Reagan Presidential Library, the the Queen Mary, or just lie low. Our choice.
Beth's Fourth Day in Los Angeles
Tuesday, June 12, 2007
Our schedule is TBD, however Laura's Nutrition Weight Mainenance class is likely and we will probably go to the Original Farmers Market and the Grove to shop before heading off to Slimmons to attend Richard's "Live It" and "Sweat" classes.
Beth's Fifth Day in Los Angeles
Wednesday, June 13, 2007
This day's schedule is constrained because Laura has one doctor's appointment that cannot be moved. So we will either go to The Getty Center , or Will Rogers State Park, make a stop for a brief walking tour of UCLA , then head over to Cedars Sinai to keep it. Later, we will go home, and then meet Eric for a Ramen dinner.
Beth's Sixth Day in Los Angeles
Thursday, June 14, 2007
Plans are up in the air. However, we will probably go to The La Brea Tar Pits before attending Richard's "Sweat" class at Slimmons."
Beth's Seventh Day in Los Angeles
Friday, June 15, 2007
Today is
Beth's Birthday!
We will have a very special day at The Huntington Library & Gardens where we have been lucky enough - and I mean LUCKY! - to get reservations for lunch in their famous Tea Room. We'll go home to make up a picnic dinner, and then head off to the Griffith Observatory and Hollywood Sign in the evening.
Beth's Eighth Day in Los Angeles
Saturday, June 16, 2007
We will start with Richard's "Project Me" and "Sweat" classes at Slimmons. Then we will be heading off to Venice Beach with our pre-packed picnic lunch. I have no doubt that Beth will want to watch the hunk-o-rama's at Muscle Beach.We will probably go out to dinner as this is Beth's last day in Los Angeles for this trip. We will return and be depressed as Beth will be leaving very early tomorrow morning.
Beth's Ninth Day in Los Angeles
Sunday, June 17, 2007
Beth will be heading home to her family. Laura will be sad.
Day 10 - Beth Leaves Los Angeles